Renewable Energy segment is Cypark's fastest growing and largest business segment, producing energy in the form of electricity from renewable resources mainly from solar, biogas, biomass, municipal solid waste, and organic waste.
Cypark has the undisputed experience to finance, engineer and develop renewable energy projects offered by Malaysia's Sustainable Energy Development Authority (SEDA) and the Energy Commission (EC) for the Company's own projects, and its customers.
Cypark also looks into ways to expand its reach in RE, both locally and internationally, through collaboration with renowned leaders in their respective fields. To this end, we have entered into a Memorandum of Understanding ("MOU") with Huawei Technologies (Malaysia) Sdn Bhd (Huawei) on 3 December 2021 to collaborate for the purposes of a long-term cooperation for a total of 500 MW RE projects located in and outside Malaysia.
SEDA FiT - Ground Mounted Solar Projects
Cypark's Renewable Energy Park located in Pajam was developed and constructed under a remedial landfill area.
Malaysia's Feed-in Tariff (FiT) system obliges Distribution Licensees (DLs) to buy from Feed-in Approval Holders (FIAHs) the electricity produced from renewable resources (renewable energy) and sets the FiT rate. The DLs will pay for renewable energy supplied to the electricity grid for a specific duration.
The FiT mechanism ensures that renewable energy becomes a viable and sound long-term investment for companies, industries, and individuals by guaranteeing grid access and setting a favourable price per unit of renewable energy.
Cypark has developed over 31.23 MWp of SEDA FiT projects in Malaysia. One of the projects is located in Pajam, Negeri Sembilan where the project was developed and constructed under a remedial landfill area.
Large Scale Solar (LSS) - Ground Mounted & Floating Solar Projects
Large Scale Solar or known as LSS is a competitive bidding programme to drive down the Levelized Cost of Energy (LCOE) for the development of large scale solar photovoltaic plant (LSS).
On top of its contribution as an environmentally friendly source of energy, Malaysia's government has undoubtedly recognised the potential of large-scale solar farm (LSS) projects in supporting the national electricity grid. As a result, it has rolled out a large-scale solar (LSS) programme through the Energy Commission Malaysia (EC), which allows you to generate your own electricity (capped between 1MW and 50MW installable capacity) from a solar farm and then sell it to the TNB grid.
Our team has developed over 319 MWp of large-scale solar projects across Malaysia. Among all the projects, the 49 MW LSS2 PV project in Sik, Kedah had successfully achieved its COD on 1 January 2022. While, the 98 MW LSS2 floating solar projects in Danau Tok Uban, Kelantan and the 172 MW LSS3 project in Merchang, Terengganu are both nearing completion.
LSS2 Ground Mounted Solar Plant Sik, Kedah (49 MW)
LSS2 Floating Solar, Tasik Danau Tok Uban, Kelantan (98 MW)
Agriculture Integrated Photovoltaic (AIPV) Solar Projects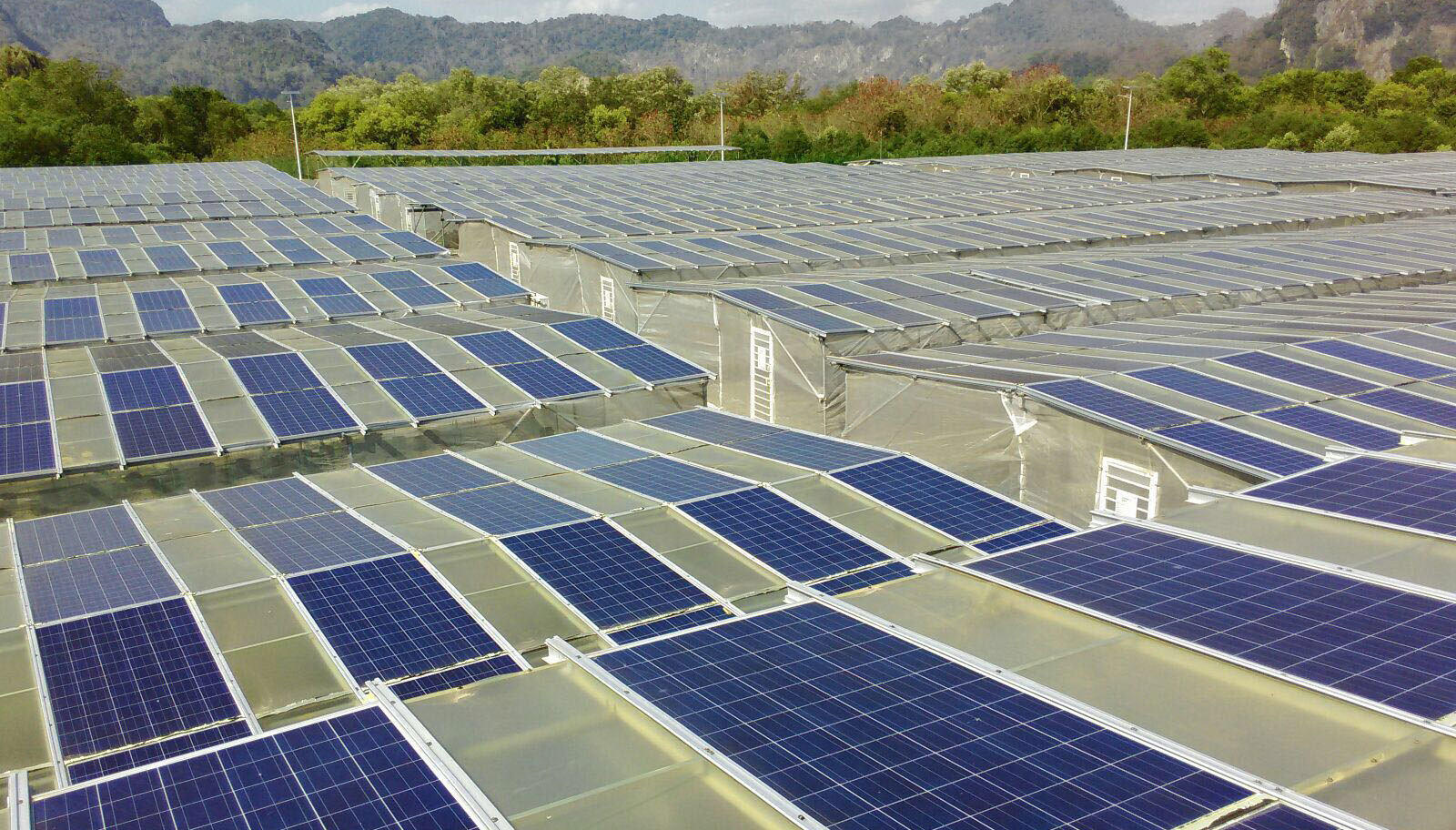 AIPV Plant in Kuala Perlis (1.075 MW)
We adopted and implemented the Agriculture Integrated PhotoVoltaic ("AIPV") system, which allows us to achieve clean energy generation as well as food crop cultivation and livestock rearing. The 1.075 MW AIPV facility located in Kuala Perlis, Perlis and the 4 MW solar plant in Jelebu have shown promising results so far on the co-existence of both commercially viable activities that can potentially be implemented in other future projects.
SEDA Net Energy Metering (NEM) Projects
Net Energy Metering (NEM) is a mechanism that allows eligible consumers to harness solar energy by installing a solar PV system primarily for their own use. Any surplus energy generated, measured in kilowatt-hours (kWh), can be exported back to the grid, offsetting the kWh consumed from the electricity provider (TNB) during the applicable billing period.
Cypark has won about fourteen (14) NEM projects and recently has been appointed by International Islamic University Malaysia (IIUM) to construct and operate its solar photovoltaic (PV) system.
This will be the largest solar photovoltaic system ever built for an educational institution in Malaysia at 6.25MWp, paired with innovative technology whereby the solar panels are not only built on rooftops but also on carpark and pedestrian walkway.